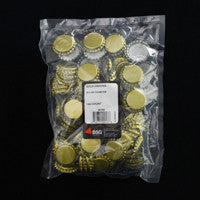 Oxygen Absorbing Bottle Caps - 144 count bag
Gold oxygen absorbing beer bottle caps have a special liner that absorbs oxygen in the bottle's head space. This keeps your home brewed beer tasting fresher, and can extend it's shelf life.
These caps fit standard 12 oz and 22 oz beer bottles.
---
We Also Recommend