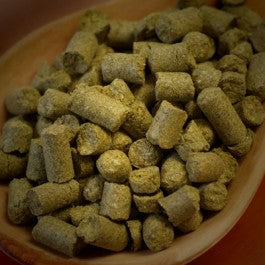 East Kent Golding Hop Pellets, 1 oz.
East Kent Golding Hop Pellets
(UK) Smooth and sweet, East Kent Golding is recognized as having the most typical English profile. This hop is in demand for copper-hopping and dry hopping of traditional ales. Use Golding hops in combination with Fuggles for a time-honored taste. East Kent Goldings are also useful for late hopping lagers, when a delicate aroma is required.
Average Alpha: 4.5-6.5%
Substitutes: Styrian Goldings, Fuggle, and Willamette
Choose quantity on the next screen.
---
We Also Recommend