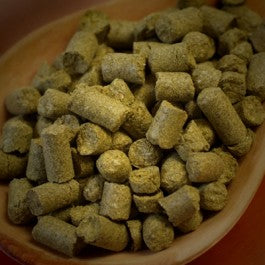 Amarillo® Hop Pellets, 1 oz.
Amarillo® Hop Pellets
(American) Intense and pungent aroma and flavor. Typically brewed in American Pale Ales, IPAs, Imperial IPAs, and occasionally Porters.
Aroma/ Taste: Grapefruit, tropical fruit, and ripe melon
Average Alpha Acid: 8-11%
Substitutes: Cascade, Centennial
AMARILLO® is a trademark owned by Virgil Gamache Farms, Inc.
---
We Also Recommend