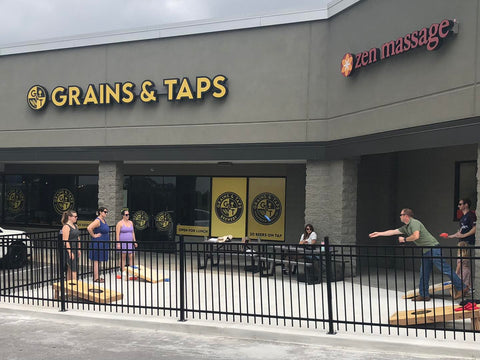 Summer Cornhole League Signup
Grains & Taps Pine Tree Plaza Spring Cornhole League
Registration is $25 per team. Each team will receive a participation prize of $30 worth of Grains & Taps gift cards the last week of the season for having at least one official member from their team attend each week. All games will be held at the Pine Tree Plaza Taproom on the patio. In the event of inclement weather, games will be moved inside the taproom. The top team in each league will win a prize.
Games will be on Thursday evenings starting at 6:30 PM each week. The first week of the season will be Thursday July 6th

Eight week league with games 7/6-8/24.
Instructions: In the notes at checkout list THREE people for your cornhole team as well as a team name. You do not need to have a third person listed, but it helps to have an alternate. If you don't have all three people figured out at the time of registration, list as many as you have and be ready to report the additional name the first week of the league. Only two people per team will play at a time, but you are welcome to rotate or keep the third person as an alternate. Individuals may play in both leagues, but no individual may be listed as an official member on more than one team within the same league. In order to receive the participation prize at least ONE member listed on your teams list must be present each week. You may use alternates on your team that aren't registered as long as one registered player is present.
Registration will be capped at ten teams.
The participation prize is intended to encourage attendance to guarantee all teams have an opponent to play against. We understand that all kinds of things come up that could cause all three members of a team to be unable to attend, but there will be a "no exceptions" policy for receiving the participation prize if all members of a team miss one of the scheduled games.
The league is recreational. All skill levels are welcome.
Game rules will be discussed at the first game. If you've played cornhole or bags before the rules should be pretty standard.