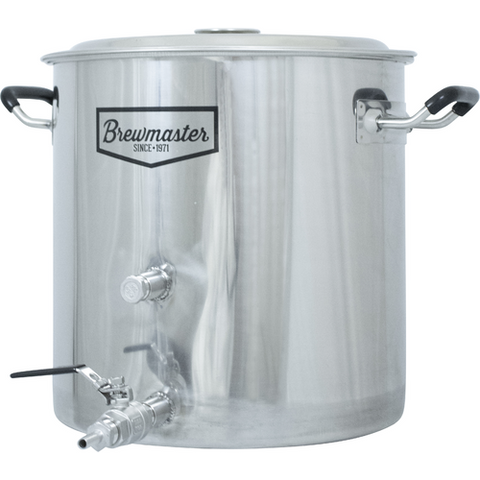 8.5 Gallon Kettle
The Brewmaster Stainless 8.5 Gallon Brew Kettle is great for first-time and experienced home brewers. The two 1/2" coupler plugs make it easy to use the included ball valve with 3/8" barb for transferring and provides the opportunity to add a thermometer. You can also equip a false bottom and utilize this kettle as a mash tun.

Features:
8.5 Gallon Stainless Steel Brewmaster Brewing Kettle
Two Welded 1/2" Full Couplers allow for internal and external attachments
Stainless 1/2" Full Port Ball Valve & nipple included for bottom Coupler
Stainless 1/2" Plug included for top coupler
Stamped Volume Markers
Silicone Handle Grips
Internal Threading allows for conversion to Mash Tun or addition of whole hop filters
Internal Dimensions: 13.75" Tall x 13.75" Ø
1 mm thick walls
Made from 201 Stainless Steel

Approximate Internal Dimensions 13.75" tall 13.75" wide.  
---
We Also Recommend